Nitz Development & Construction Company is a professional general contracting, construction management and consulting firm.  Robert Nitz, Jr. (Bob) began the company in the late 1980's after years of executive management experience with other construction firms.  
Bob is uniquely qualified to be called a Church Builder, raised in the home of real estate management professionals who spent most weekends singing gospel music.  Bob feels equally at home looking over a set of building plans or an orchestral score.  This rare combination of those experiences has provided him a special understanding of Church Building.  His rich personal heritage in the church compliments his outstanding business credentials.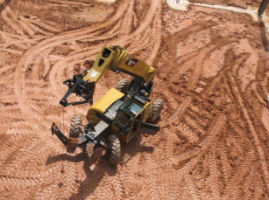 Bob founded his first business at 17 years old, it continues to excel today.  For the past 40 years he has put his experience to work for hundreds of construction projects.  Including; custom homes, sports complexes, office buildings and shopping centers with special focus on Churches and Schools.
Nitz and a dedicated team of hard working professionals have grown a company that has earned a reputation for providing value, combined with uncompromising quality and professional workmanship. 
When we work together on your commercial building or site project, you have our commitment; to nurture your vision, protect your resources, and provide expert leadership in the mission to construct the right facility for your needs. 
Our delivery of commercial construction and site services is tailored to your project. We recognize that many of our clients are unfamiliar with the complexities of land acquisition, concept and design, jurisdictional approvals, and project finance. We help you meet this challenge head-on by partnering with your organization as a comprehensive project advocate. 
When you partner with Nitz we are able to work with you in a number of different ways to maximize your project resources.
YES, WE ARE BUILDERS. BUT WE ARE MUCH MORE.
Our company stakes its reputation on an ability to deliver a superior product, on-time, at the best possible cost. We are committed to being your advocate from concept to completion, and beyond. We establish our value on a history of client satisfaction.
We serve our clients best when they receive our dedicated attention; from the beginning of the project, until well after completion. To make good on this commitment, Nitz carefully manages our portfolio to ensure we are able to give your project every possible advantage.
Though we gladly provide our services and expertise to a broad range of commercial projects, from our very beginning Nitz has focused on institutional projects; churches, schools, civic, arts, and community spaces. We believe these are special places. We enjoy working with the people who inhabit and care for these spaces, and the communities they serve. We value the commitment it takes to support the life of your organization, and recognize how important your building project is to your community.
Nitz is committed to providing our employees, sub-contractors, and project personnel with a safe work environment. We know how important it is that everyone who works on our projects can count on personal worker safety at our job sites. We create safe jobsites through a disciplined approach which includes training, supervision, and proper equipment and techniques. Our employees are required to work safely, and can rely on an organizational commitment to their individual, job site well-being.
Your project site is a special place. We work hard to create a positive work environment. Negative or unreasonable behavior is not welcome on our projects. Construction work can be dirty work, but demeanor on the job site doesn't need to be.